OGX Organix – Renewing Moroccan Argan Oil – hair strengthening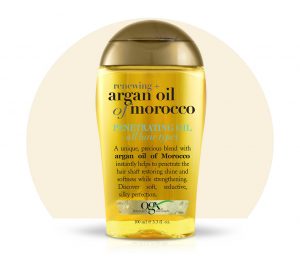 Argan oil is one of the most popular oils used in cosmetic industry. Acclaimed liquid gold of Morocco, it gains the highest notes in every field related to conditioning: both hair and skin of body and face. Argan oil is universal and effective. It guarantees spectacular effects, is efficient and temps with truly pleasing aroma.
This is all reason enough for cosmetic companied to endorse it. Worth paying attention to are these products with content of either pure argan oil or enriched with natural and organic substances that will not disrupt its properties. The product of this sort is, for example Renewing Moroccan Argan Oil – OGX from Organix, famous for high quality cosmetics.
Argan Oil OGX is locked in clear, plastic bottle with 100 ml/3.3 fl. oz. volume and golden label.
It's very efficient, because for one time application, small amount of oil is enough. Just pour some of it on hand and gently rub to warm it up (natural oils like a bit of heat, because it improves absorption of oil's particles in the inner hair structure). Argan Oil OGX has no pump, so you must be careful not to spill too much of it on the hand and not to mess your clothes. Oil should be rubbed in dry or damp hair – this oil is natural, so you can use it also for scalp massage. This way you can not only clean scalp, but also regulate sebum secretion and nourish hair bulbs. Thanks to the treatment hair will start to grow healthier and stronger, stop falling out and you can stop worrying about dandruff or scalp irritations.
Argan Oil OGX also protects hair against unfavourable impact of the sun radiation and all sorts of other atmospheric factors that contribute to hair damage.
What is more, unique properties of argan oil make it great product for stylisation: immediately disciplines hair, makes stylisation easier and makes strands gain amazing gloss. Argan oil is a product, that undoubtedly should be a must have for every woman.
You can read more